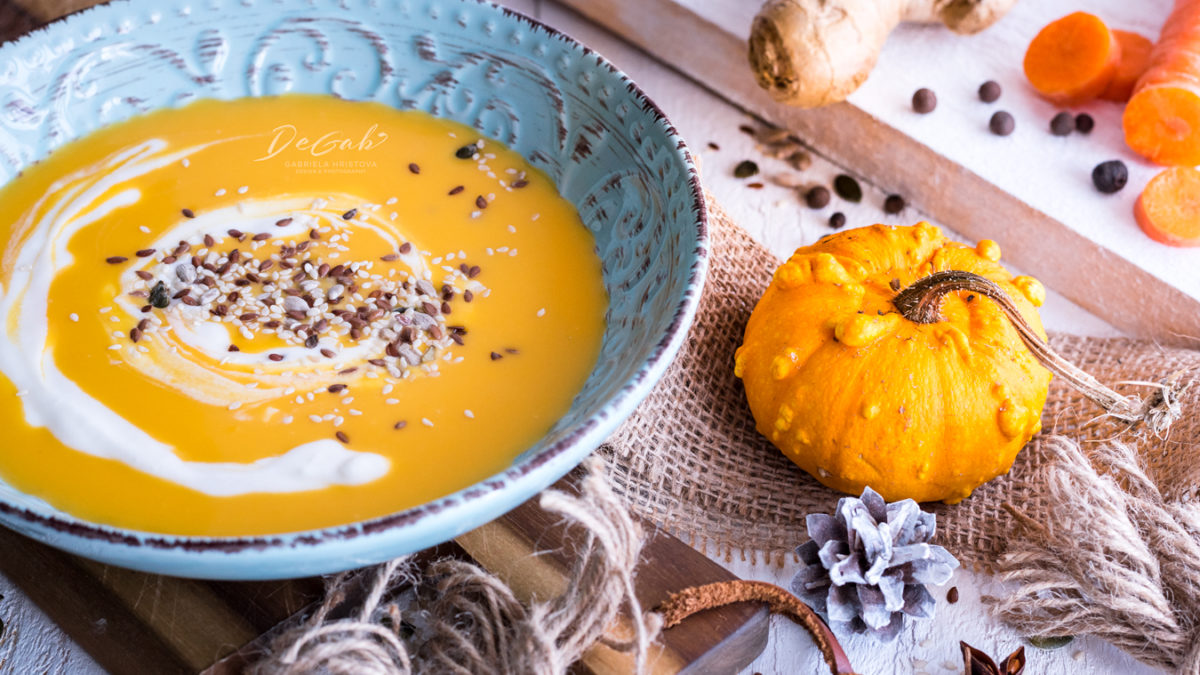 Cream pumpkin soup recipe
Габриела Христова, 5 years ago
0
3 min

read
2922
A creamy pumpkin soup with a touch of ginger
Each season brings along its own unique atmosphere and mood.  Autumn, albeit colder than summer, still evokes a peculiar feeling of comfort with its numerous vivid colours. Few things can match what the sight of autumn rays of sunshine, caressing the yellow and orange October mantle, bring out in me. The gorgeous, bittersweet, nostalgia for summer days past, gives off a profound feeling of joy. This very image, maybe in combination with the small pumpkin, chanced upon in a friend's garden, is what motivated me to prepare this tasty cream pumpkin soup today.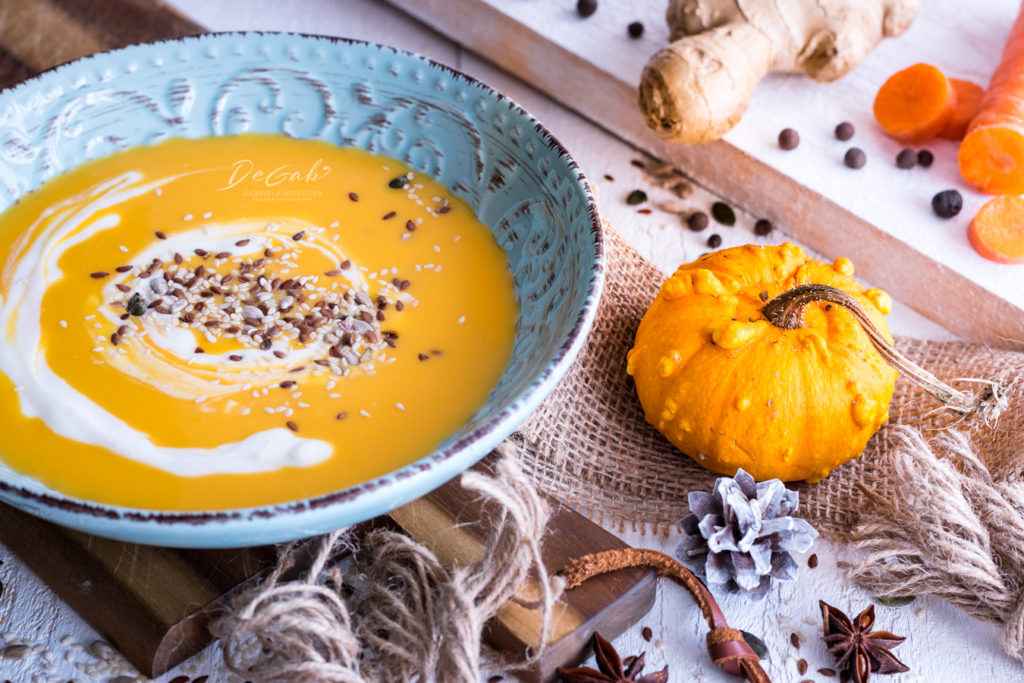 When it comes to cooking, I prefer sticking to the seasonal fruits and veggies. This allows me to always be sure that all of my ingredients are tasty, fresh and – all in all – that they are the best they can be! And while we're still talking about the many wonders of autumn, I simply have to bring up pumpkins. If autumn was a plant, I'd be hard pressed to find a more fitting candidate than the pumpkin – I can hardly name a more fitting taste or colour for the season! I enjoy pumpkin in all kinds of dishes and desserts, but – I got to admit – I have very little experience in using it for salted dishes. And that is exactly why I absolutely adore this particular cream pumpkin soup recipe – it requires little to no effort, yet it brings amazing results! The rich pumpkin taste, backed up by the gingery citrus aroma provides everyone, looking to warm themselves up during the cool autumn afternoons, with much-needed respite.
What you will need for this autumn cream pumpkin soup recipe
To make this cream pumpkin soup, you should prepare the following:
600 grams of pumpkin (peeled and cleaned)

1 onion

2 carrots

200 ml. milk

100 ml. cream

20 grams of butter

1 tablespoon of shredded ginger

1 tablespoon of salt
How to prepare your autumn ginger cream pumpkin soup
Autumn inspiration tip – Go for a walk on a warm and sunny October day and collect a nice assortment of fallen leaves. Get back home and plop them in a vase to create a cosy and beautiful autumn aesthetic. Now, that you're all set, you are ready to get started with your flavourful cream pumpkin soup!
Begin your cream pumpkin soup preparation by cleaning up and peeling your veggies.  Peel and cut your carrots and onion into neat cubes. Pour a bit of olive oil in your pot and, after letting it heat up for a bit, use it to fry your onion and carrots. As soon as they get sufficiently softened, you can add your pumpkin and salt. Braise your mixture, adding just enough water to completely cover the veggies.
After boiling your pumpkin soup, pour it into your blender and blend until you are happy with the texture. Now, the time has come to add the butter, warm milk, cream and ginger. I personally prefer to add the ginger last, instead of frying it along with the other ingredients. This allows me to preserve its natural freshness and flavour. For the grating, I use a fine parmesan grater.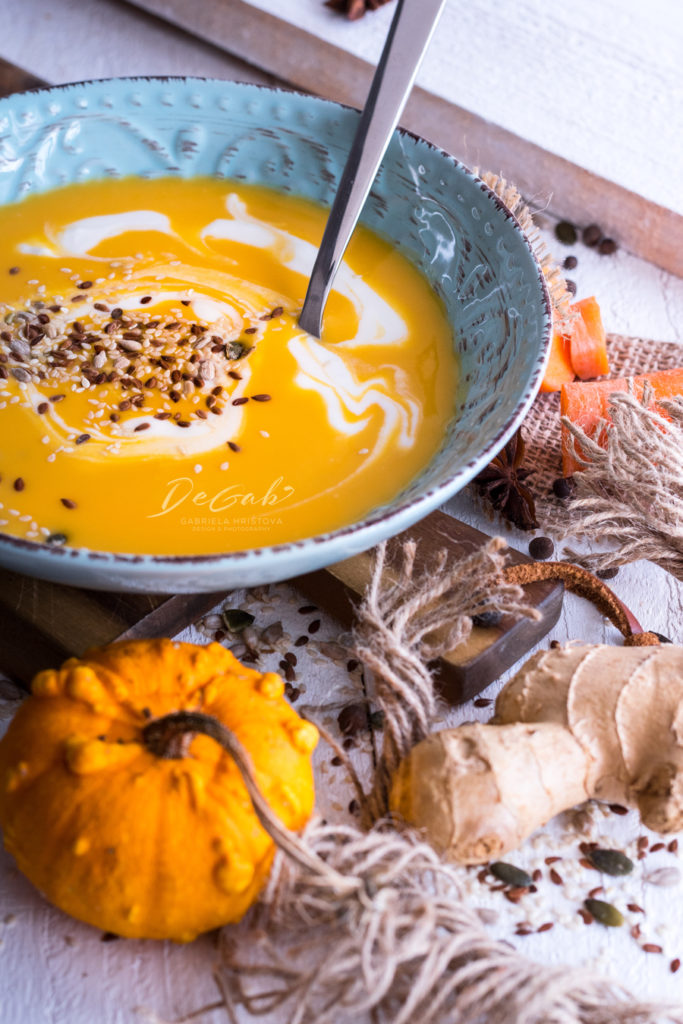 How to serve your autumn cream pumpkin soup
Garnish your cream pumpkin soup with dry-baked pumpkin seeds. In this case, I had a mixture of sesame, flaxen and pumpkin seeds and the result was absolutely awesome! You can also add a spoonful of yogurt for some additional flavor.
Don't forget to tag me on your Instagram pictures of this pimpkin soup
Related posts
За автора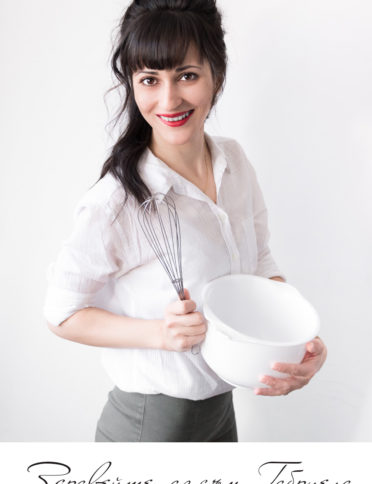 Добре дошли в моето място за кулинарна фотография и рецепти. Радвам се, че сте тук и се надявам да ви бъде интересно!
Габриела Христова - Автор на блога
Learn more